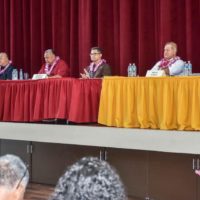 Gubernatorial teams which participated in the ASCC forum last week were asked about ways they planned to address the shortage of teachers and nurses in the territory, specifically assistance for the teacher education and nursing program at the college.
According to Governor candidate Lemanu Peleti Mauga, the driving force of any community is love and finance. And many of those who are working in these fields are in it for their love of service to the children and the people's health.
However he said the government needs to take care of doctors, nurses and teachers, by offering them attractive salaries.
He suggested that American Samoa Community College be elevated o a four year college to education our own people here in the nursing and teaching professions.
For the Nua and Satele team, governor candidate Nuanuaolefeagaiga Saoluaga Nua said these professions are essential for the territory's well being.
To address the shortage of teachers and nurses, teacher education and the nursing program at ascc must be well funded.
Salaries must also be attractive to entice students to these fields. Without that students will not want to become teachers and nurses. He said their team will look at what needs to be done to elevate these programs at the college.
Lt Governor candidate Tapaau Daniel Mageo Aga of the I'auluao Tapaau team said revenues needed to provide teacher and nursing education comes from developing the economy.
But he said it's too late to wait until students get to college to entice them to these fields. They have to be culled into teaching and nursing at the elementary level.
Play Audio