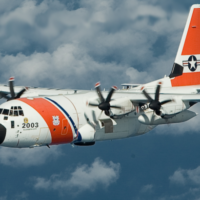 A United States Coast Guard C130 aircraft has been flying in and out of Pago Pago international Airport for the last few days.
It arrived Sunday and is part of a Coast Guard enforcement mission in American Samoa's Exclusive Economic Zone, says the governor's executive assistant Joseph Pereira.
Crew members of the aircraft are in quarantine at the Department of Health Quarantine Center in Tafuna.
Supervisor of the Coast Guard Marine Safety Detachment Unit in Pago Pago Lt Creighton Chong says the crew go directly from the quarantine center to the airport to conduct their flights and return to the quarantine center at the end of their flights.
They cannot go anywhere else.
Director of Health Motusa Tuileama Nua says the crew is checked daily by doctors and are accompanied between the quarantine site and the airport by DOH.
Iulogologo, who's also chairman of the Coronavirus Task Force said as long as the crew complies with the protocols that both the USCG and DOH have agreed on they will be allowed to access areas predetermined by both parties.
"The USCG has been vigilant and diligent in making sure that our protocols are fully satisfied to ensure that our people are protected," said Iulogologo.
A US Coast Guard fast response cutter will be arriving in port soon to reprovision and for R&R for the crew.
According to Iulogologo, DOH has been working with the cutter for a month now to work out quarantine protocols to ensure that they are not COVID-19 infected.
He said the USCG is not boarding any vessel during their enforcement trips. If they do board a vessel the Department of Health will be informed.
"The Department of Health was able to set some requirements from the cutter relative to keeping temperature logs for review when the vessel enters," said Iulogologo.