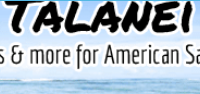 Incumbent Congresswoman Aumua Amata polled the most votes in Southseas Broadcasting Inc's election poll on our news website talanei.com
There were 1082 votes  cast.
The  question: Who do you support in tje American Samoa Congressional Delegate race?
62% voted for Aumua Amata,  35% voted for Oreta Tufaga Mapu-Crichton and 3% voted for Meleagi Suitonu Chapman.
The poll displayed from October 13th to October 19th.