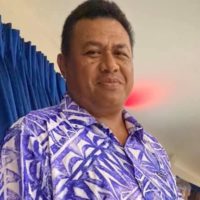 A member of Governor Lolo Moliga's cabinet, Acting Director of the Department of Youth and Women Affairs, Pa'u Roy Ausage is running in Samoa's general elections next April.
According to the Samoa Observer, Pa'u is a candidate for the Falelatai and Samatau constituency.
He will be up against the incumbent M.P. and Associate Minister of the Ministry of Natural Resources and Environment, Taefu Lemi Taefu, as well as former Electric Power Corporation Chief, Tologata Tile Leia.
Pa'u – who is the owner of Transit Motel in Mulifanua –will be contesting under the Fa'atuatua i le Atua Samoa ua Tasi [F.A.S.T.] banner.
The Electoral Act of 2019 that Parliament approved last month requires that candidates must be in Samoa for 306 days a year in order to meet the residency requirements of the electoral law.
If they are out of the country longer than that they have to justify their absence.
Pa'u told the Samoa Observer he's fulfilled all the requirements to be on the ballot.
"There are exemptions allowed under the law and I have fulfilled them," he said.
Eligible candidates who are stuck overseas must be in the country 14 days before the general election next April.