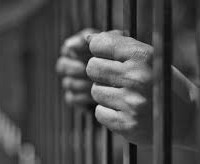 An inmate serving a 25- year sentence for escaping from the Territorial Correctional Facility is facing further jail time after he allegedly assaulted two correctional officers earlier this month.
Samoa News reports 30 yr-old  Vatoi Ching Sam Jr, also known as Pati Lepou, was in District Court last week for his initial appearance on two counts of 3rd degree assault and will appear again next month.
The police statement said they responded to a call from TCF of an assault on correctional officers in the compound.
The officers told the investigators the inmate had assaulted both of them before and after lunch on October 21, 2020 resulting in both receiving minor facial injuries.
The defendant had apparently wanted to go to the main gate from the Alpha Building where he was being held on disciplinary action for undisclosed misconduct.
The defendant told police he got angry with both officers for not allowing his request.
The officers said the defendant became agitated when he was refused and he turned around and assaulted them.
After he was subdued and taken back to his cell by the officers, he again threatened to stab them with a knife next time he was out of his cell.