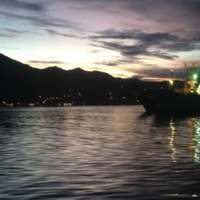 The only fishing vessels whose crew are allowed to come on shore when they return from fishing trips are locally owned longliners.
Director of Health Motusa Tuileama Nua says these fishing boats do not leave territorial waters and do not come into contact with foreign vessels at sea.
He said all other fishing vessels like purse seiners and foreign long liners cannot leave their vessels while in port. He said every effort is made to clear them out after they unload their catches, reprovision and refuel their boats.
According to the Health Director some of these vessels have Samoan crew members, from here and Samoa.
If these crew members want to visit relatives while their vessels are in port, they must have a negative COVID-19 test result, after 14 days of quarantine on board their boats, before they are allowed to come on shore.
Motusa said this is also the requirement for any crew member that needs to go to the hospital …they must be cleared of COVID-19 before they can be taken to LBJ and this is all overseen by DOH personnel at the dock.
For container vessels , no crew member is allowed to leave their ships.
Local stevedore workers who go on board must wear masks and long pants and closed shoes unlike before where some used to work with just shorts, t shirts and slippers, said the DOH Director.