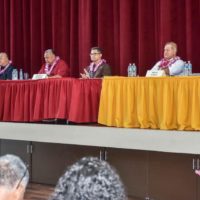 Candidates for Governor and Lt. Governor who took part in the ASCC Student Government Association Forum last week were asked what programs they would implement or resources they would provide to students who dont qualify for Pell grants are able to afford college and complete their degrees.
A large percentage of high school graduates don't continue their education at ASCC because they cannot afford the tuition and do not qualify for Pell grants because they were born outside of American Samoa.
Candidate for Governor I'aulualo Fafetai Talia said they will establish a scholarship program for students who aren't eligible for Pell grants but in otder to do this the economy must be developed so that new revenues are generated.
Play Audio
His running mate Tapaau Daniel Mageo Aga said a simple answer is to lower the tuition for non US citizens and nationals.
For the Lemanu/Talauega team, Lt Governor candidate Talauega Eleasalo Ale suggested that ASG can award more scholarships to students attending ASCC who don't qualify for grants. He states that as far as Lemanu and he are concerned ASG has a lot of money but it's a matter of priorities.
Play Audio
Lt Governor Candidate Tapumanaia Galu Satele Jr said there should be more assistance given to non US citizens and nationals who have become permanent residents some of whom have lived here 30 years, other than a 3 year iimigration ID card.
With education being a priority in their campaign platform he gave ideas on how they can help students who don't qualify for Pell grants.
Play Audio