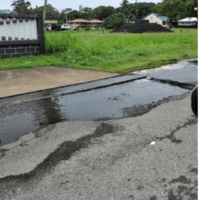 The Fagaima Road was a river for most of the weekend after heavy rainfall Saturday morning, turning potholes into craters and flooding some homes.
Tuala-uta Representative Larry Sanitoa sent Public Works Director Faleosina Voigt photos of some of the damage.
Right in front of Pacific Independent Distributors a section of the road has washed out. Sanitoa said residents and motorists are only able to use one side of the road.
Furthermore, several deep and huge pot holes which he had requested the contractor Silva Construction to repave for several weeks are still there and now very dangerous.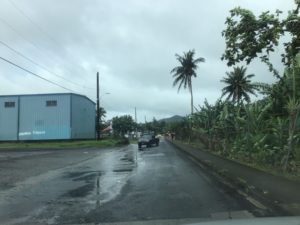 Aside from the damages, there's a lot of cinder and dirt that have washed up on the main Fagaima road – and this is from the work being done by Fletcher on the Kokoland Road.
Sanitoa said, "Earnestly hope we can get these problems fixed today for the safety of our motorists and residents."
The Tuala-uta lawmaker also asked the Public Works Director about the vacumm truck.
"In your budget hearing last month, you mentioned that we are still waiting for parts for the vacuum truck. It has been six months since the truck was down."
Sanitoa pointed out that flooding throughout the territory and especially in Tuala-uta District is worse; and without the vacuum truck "we are unable to clean and maintain our drainage areas."
The faipule said, "Given the rainy season is upon us, what is the status of the vacuum truck please?"