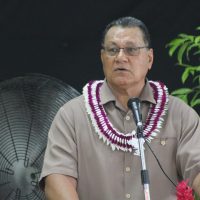 Senate President Gaoteote Palaie Tofau was discharged from the LBJ Hospital Friday morning with advice from his doctor to take it easy.
Gaoteote, a candidate for governor in the November 3 general elections, spent four nights at the LBJ Medical Ward for what was described as exhaustion due to lack of rest.
The Senate leader was present at a campaign committee meeting Friday afternoon and joked about all the rumors regarding his health.
While he was hospitalized Senate President Pro Tem Sen Nuanuaolefeagaiga Saoluaga Nua led last week's Senate sessions to discuss an interim appropriations bill to operate ASG for the time being until a FY2021 budget has been finalized.