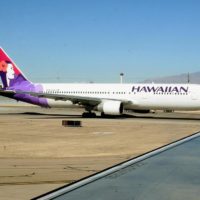 The Medicaid Office has issued the following reminders for all travelers on the Monday medical flight.
HI HEALTH QUESTIONNAIRE REMINDER. Please ensure you have registered for the HI Safe Travels Program and completed the Health Questionnaire prior to departure. Failure to so will incur a $2000 fine upon arrival in Honolulu. The Medicaid staff will be at the airport to help passengers with any last-minute registrations.
CHECK-IN on Monday: Check in will be done at the Hawaiian Airlines Cargo Building (not the terminal). Cars need to queue up at the public parking lot where airport security will be directing traffic and flow of check-in.
Passengers with last names starting with A to M–can check in starting at 6:00 AM to 8:30 AM. Last name N to Z–can check in starting at 8:45 AM to 11:30 AM. Security checkpoint will be open from 10:00 AM to 12:30 PM. Please do not be late to get through security because HAL needs to board all passengers–many requiring wheel chair assistance–in a timely manner to ensure the on-time departure of HAL Flight 920.
IMMIGRATION: After check-in, immigration will be open at 8:00am through 12:30pm for passengers to clear through immigration. We encourage people to clear immigration as soon as possible starting at 8:00am to ensure everyone is cleared by 12:30PM. The goal is to have an on-time departure by 2:40PM.
DROP OFF: Please say your goodbyes at home as only traveling passengers can be DROPPED-OFF at the airport terminal. Parking will be closed to the public and only airport employees and traveling passengers will be allowed in the terminal. HAL personnel will be available at the airport for wheelchair assistance.
SEATING FOR CHARTER: Seating priority is assigned based on patient levels, patient escorts and families. Level 1 patients will be in First Class and Extra Comfort. HAL will pre-assign all other seats. All efforts have been made to seat families together. There are no seat upgrades on this flight. All passengers are required to wear a mask on the plane and upon arrival in Honolulu. Please have extra masks on your person. Keep in mind social distancing rules.
QUARANTINE in HONOLULU: Because American Samoa is a COVID-free jurisdiction, ALL passengers have received Quarantine Exemption for Honolulu and will not need to quarantine upon arrival—SO LONG as you carry with you the HI Quarantine Exemption letter granted by the State of Hawaii. That letter will be distributed at the Pago airport by the Medicaid staff, to each individual passenger.
TRANSIT PASSENGERS GOING TO THE US MAINLAND: Unfortunately, HAL will not be able to check anyone into a connecting flight to the US mainland. All transiting passengers must claim their bags in Honolulu and take them to re-check at the next airline's check-in counter for their connecting flight out of Honolulu–if departing within 24 hours upon arrival.