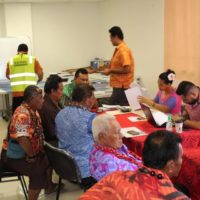 Three current members of the Samoa Parliament will return unopposed at next years General Elections.
The three include former Deputy Prime Minister Fiame Naomi Mataafa who is unopposed from Lotofaga electoral constituency at the close of nominations early this afternoon.
This week she registered as an independent which would allow her to voice concerns from her electorate about the controversial bills designed to change the Constitution.
Minister of Education Sports and Culture, Loau Keneti Sio is unopposed at the newly created electoral constituency of Sagaga 1 along with Associate Minister for Communications, Lealailepule Rimoni Aiafi who takes the seat for Faleata 3.
A record 200 candidates had registered by the close of nominations at 12 noon Thursday including the three who are unopposed.
The General Elections will be April 9, 2021.