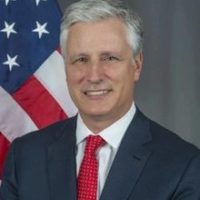 President Trump's National Security Adviser Robert O'Brien has announced the US will build and deploy to American Samoa and Guam 'fast response' Coast Guard cutters to counter malign Chinese activity around the islands. KHJ News Washington DC correspondent Matt Kaye reports—
O'Brien says the Chinese Communists are encouraging fishing violations, building illegal military outposts, dumping garbage in the ocean and harassing legal commercial vessels.
President Trump's National Security Adviser says China is "threatening the rules-based order that's kept the peace since World War II"…so the president is acting—
Play Audio
O'Brien says the cutter and two in Guam must still be funded, but if built, will "patrol, surveille and protect the islands" and enforce US laws. That, while partnering with other nations like Western Samoa, the Cook Islands, Panga, Tuvalu, Kiribati, the Fijis, Solomons and Papua New Guinea.
But American Samoa will be key in the region…
Play Audio
And what about military threats from China?
Play Audio
…engaging in "strip fishing" and depleting resources in the Western Pacific…
O'Brien says the cutters are 154-feet long, have a 2500 nautical mile range, and assuming funding, could be built along with their bases, in a couple of years.
O'Brien says he spoke personally with Governor Lolo Moliga and New Zealand Prime Minister Jacinda Ardern recently. He says Ardern is pleased with the idea of more US law enforcement on the high seas.