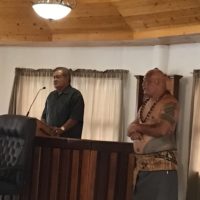 The was some progress in the Senate yesterday on the interim appropriations bill to fund ASG which is now in its third week of Fiscal Year 2021 without an approved annual budget.
Governor Lolo Moliga issued an executive order that essentially funds just salaries but not much else, and this authority, the legality of which is being questioned in some quarters, expires October 30th.
After more discussion yesterday the Senate passed in second reading the House version of the administration's interim appropriations bill.
The House bill includes changes. Representatives have extended the effective period for the bill from 30 to 60 days.
They have also removed wording that the Fono did not pass the FY2021 budget and replaced it with, the "budget bill was presented to the governor for his approval or disapproval. "
Senator Faamausili Mau Mau Jr and Tuiagamoa Tavai protested the amended language,
Faamausili said the Fono did not approve the governor's FY2021 budget as proposed, because the legislature slashed the amount and didn't approve what was submitted. Therefore in his view, which was shared by Tuiagamoa, the budget bill was not passed.
Senators Logoai Siaki, Suiaunoa Sauletufuga and Muagututia Tauoa countered that the Fono had approved the budget bill and submitted it to the governor. But instead of approving , disapproving or exercising his line item veto, the governor has decided not to act on the approved budget.
The majority of senators voted to keep the House wording of the bill and add that the Fono approved the FY2021 budget with amendments.
Sen Faamausili then suggested that they put in the bill the $6.5 million figure which the Fono cut from the governor's budget. He said this should be included since that was the amendment that the Fono made to the governor's budget.
Faamausili insisted that at the conference committee and during review of the budget, lawmakers didn't get to see where the cuts were made,that they were only shown the total amount that was slashed.
But his motion was not approved.
There was discussion on leaving the amount of time that the interim appropriations bill is effective at 30 days as proposed. But Senator Nua suggested that the Senate approve the 60 days passed by the House because after the elections its uncertain whether House members will return to another Fono session.
The Senate is scheduled to take a final vote on the House bill today.
Meanwhile it has a hearing this morning with Treasurer Ueligitione Tonumaipe'a to explain the funding source for the appropriations bill and how much the administration can spend before the FY2021 budget is decided.