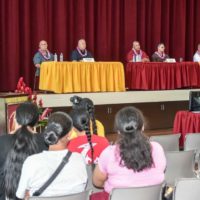 The American Samoa Community College Student Government Association's gubernatorial forum yesterday was the first to ask a question about the rights of the LGBT community.
The question stated that American Samoa is the only US territory that does not acknowledge same sex marriage and members of the LGBT community feel they are not given the same benefits and opportunities as others.
Young LGBTs feel they are discriminated against because of their sexual orientations. The candidates were asked to state their views on this situation.
Answering for the Nua/Satele team was Lt Governor candidate Tapumanaia Galu Satele Jr.
Play Audio
Governor candidate I'aulualo Faafetai Talia said he was thankful that our culture accepts LGBT individuals and they are very much part of the community. However when it comes to same sex marriage that is an issue which needs wider discussion "and we need to push the issue."
Lt Governor candidate Tapaau Daniel Mageo Aga said:
Play Audio
This was the view of candidate for Lt Governor of the Lemanu/Talauega team, Talauega Eleasalo Ale.
Play Audio