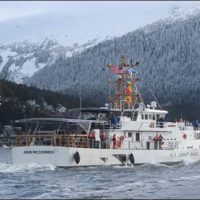 Congresswoman Aumua Amata welcomed the announcement by National Security Advisor Robert C. O'Brien that American Samoa will be evaluated as a location for U.S. Coast Guard Fast Response Cutters.
"American Samoa has always been a strategic port, and this national security consideration of modern Fast Response Cutters in American Samoa makes sense," said Aumua Amata.
"An increased Coast Guard protective, response, and rescue presence is yet another demonstration of the U.S. commitment to the Pacific region, to American Samoa, and to free navigation, the safety of our people, and the importance of the fishing industry that our local economy relies on. Thank you to President Trump, National Security Advisor O'Brien, and the U.S. Coast Guard for taking this key step in fully evaluating Coast Guard cutters in these waters."
According to today's announcement, in 2021 the USCG will evaluate American Samoa for Fast Response Cutters, with other evaluations for the Pacific based on the security commitment to the Indo-Pacific, ensuring freedom of navigation, and protecting the fishing industry.