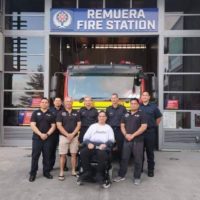 Fireman Ta'ita'ifono "Tinei" Igafo, one of the survivors of the tragic accident that claimed the lives of two firefighters on April 30th, 2020 in Afono, has been transported from New Zealand to the United States for further recovery.
After six months of treatment in Christchurch, New Zealand, Tinei was finally able to meet his other siblings and close relatives in Spokane, Washington last week Thursday.
The accident left Tinei paralyzed from his chest down to his lower extremity.
Shortly after the accident he was medevaced to New Zealand and underwent emergency surgery for a spinal cord injury.
Tinei was rehabilitated for 4 months at the Christchurch Burwood Spinal Unit and was transported to Auckland in September to prepare for his transfer to St. Luke's Rehabilitation Institute in Spokane, Washington.
When he was admitted to the LBJ Tropical Medical Center following the crash a bone specialist predicted that he probably may never walk again.
However, when family members met Tinei in Washington last week they saw for themselves that he was able to move his hands and lower body.
His family is grateful for the community's prayers and is indebted to the healthcare workers, firefighters, friends, and close relatives in New Zealand where he underwent his initial recovery.
The family said in a statement, "Although this is a challenging time for our family, we are happy that he is here in person. His journey has just barely started on the road to recovery. He is alive and well and we cannot thank you enough especially the healthcare workers of the Burwood Spinal Unit in Christchurch, NZ where he was constantly visited by local Polynesian firefighters. This kept Tinei closer to home.
"We fought to bring our son to the mainland where there are ample resources that would enable Tinei to recover quickly and efficiently, contrary to the initial arrangement that he'd be transported to American Samoa for recovery.
"Our best hope right now is to get him back on his feet to continue his service to the community, and we can all achieve this through the Almighty and miracle working God we serve."