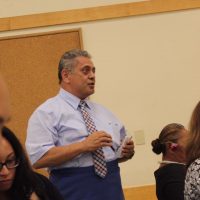 Chief Election Officer Dr Lealofi Uiagalelei has issued notice that a meeting of all eligible voters of Swains island will be held October 27 for the purpose of selecting a delegate to represent Swains Island in the American Samoa House of Representatives.
The meeting will be held at the Election Office and begins at 4:30 pm.
According to the American Samoa Constitution the adult permanent residents of Swains Island who are United States nationals may elect at an open meeting a delegate to the House of Representatives who shall have all the privileges of a member of the House except the right to vote.
These meetings used to be held on Swains Island but since the island has been uninhabited for the last 30 years, the selection of a Swains faipule has been held on Tutuila.
Current Swains Representative Su'a Alexander Jennings has occupied the seat for 14 years.