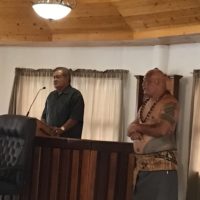 By a vote of 13-0, the House of Representatives approved in final reading this morning the administration's interim appropriations bill intended to avert a government shutdown.
The vote came early enough for the bill to be sent to the Senate where it was introduced during this morning's Senate session.
It has been assigned to the chairman of the Budget and Appropriations Committee, Senator Magalei Logovii.
The only changes that the House made to the bill was to extend the amount of time that the appropriations measure will be effective from 30 to 60 days and remove language that said the Fono did not approve the FY2021 budget.
The House is hoping that the Senate would act on their bill early so they can adjourn the special session and tend to their reelection campaigns.
But Senators don't appear to be in any rush.
After reviewing their own version of the bill this morning the Senate Budget and Appropriations Committee resolved to call in Treasurer Ueligitone Tonumaipea to explain details that remain unclear.
For example the funding source for the appropriations, and the total amount of money to be used for the 30 days of the bill, because it's not mentioned.
It was announced during the Senate session that a hearing with the Treasurer will be held on Friday morning.
Senate President Pro Tem Nuanuaolefeagaiga Saoluaga Nua continues to chair the Senate sessions as Senate President Gaoteote Palaie Tofau remains hospitalized. He was admitted Sunday afternoon.
The Senate leader has been mentioned in morning prayers to open the sessions.