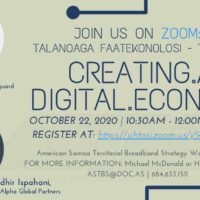 "Creating a Digital Economy" is the topic of the third webinar sponsored by the American Samoa Territorial Broadband Strategy Work Group as it continues to promote how best to maximize use of the territory's bandwidth capacity.
This will be the third webinar in the TalaTek series and the two featured speakers are Mike Baukes, co-founder and co-CEO of Upguard and Sudhir Isphahani, CEO of Alpha Global Partners.
It will be held this Thursday, October 22 from 10:30 am to noon and is free.
Gingerlei Porter, a member of the Territorial Broadband Strategy Work Group who will lead the TalaTek on Thursday explains what is meant by creating a digital economy.
Play Audio
To register for the webinar go to broadband.as.gov