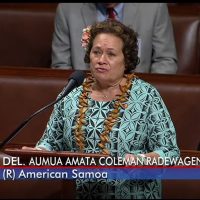 Congresswoman Aumua Amata welcomed the announcement by the Social Security Administration that an increase in benefits of 1.3 percent will start in January for those receiving Social Security.
"A few dollars of improvement can mean a lot to anyone who relies on Social Security benefits," said Aumua Amata. "Those receiving Social Security often have limited resources or fixed incomes, so this is good news, affecting thousands here in American Samoa, and many of our friends and family in the states.
"If you receive Social Security, you don't need to do anything. Instead, you should receive notification from Social Security in December, and watch for a change in the amount in the new year," she continued. "Our country has made a strong commitment to our seniors, so Social Security must always be a priority."
In 1935, Congress established Social Security through the Social Security Act. Various laws passed in later years by Congress established the cost of living adjustment (COLA), which is reviewed yearly, then linked the COLA to any increase in the Consumer Price Index, as determined by the Department of Labor's Bureau of Labor Statistics. This also applies to Supplemental Security Income (SSI).