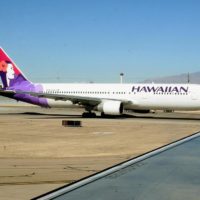 Press Release, October 20. Due to unforeseen circumstances, the medical charter tentatively scheduled for Friday, October 23 has now been moved to Monday, Oct.26.
The American Samoa Department of Health and Hawaiian Airlines (HAL) require additional time to test and process COVID-testing for the pilots and flight crews in light of the new contracting policies for HAL.
In addition, conflicts with the cargo flight and testing in HI for the crew over the weekend prevents the scheduling of a weekend flight.
ETA and ETD for the MONDAY charter:
MONDAY, OCTOBER 26, 2020
Flight #HA1331: HNL-PPG Departs Honolulu @ 8AM Arriving PPG @ 12:40PM
Flight #HA920: PPG-HNL Departs Pago @ 2:40PM Arriving HNL @ 9:00PM
The public is also advised that the Medicaid Office is no longer accepting any more people on the passenger list (patient or non-patient) as the current list exceeds available seats on the flight.