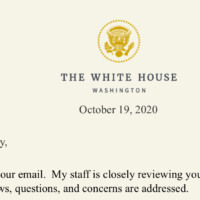 President Donald Trump has assured US Army veteran Su'a Lucia Bartley that his staff is closely reviewing her correspondence to ensure 'your views, questions and concerns are addressed. 
Su'a's letter requesting a naval ship to bring home residents of American Samoa currently stranded in Hawaii and the US mainland was emailed to the White House Saturday night and yesterday she received a reply on White House letterhead with the President's electronic signature. 
The White House response however does not contain any specific reference to Sua's request for the naval ship. 
"Each and every day I am diligently working to put the American worker and our Nation's businesses first. Over the past months, our country has faced unprecedented challengers, but we are making great strides to once again unleash the full potential of our economy and stage the great American comeback,"said the letter.
"Even before the coronavirus first arrived on American soil from China, my Administration took-and continues to take -decisive actions to save American lives, jobs, and businesses. From closing our Nation's borders from China to working with Congress to enact billions in funding through the CARES Act, we continue using every tool at our disposal to protect the American people, our workforce and our robust economy. My Administration also launched the largest industrial; mobilization since World War II- and it is working."
 A link was given to learn more about the steps the Trump Administration is taking to rebuild the economy. 
And the letter ended with, " Thank you again for taking the time to write. "