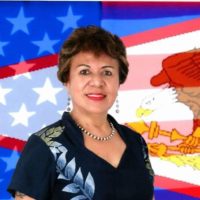 A US Army veteran and candidate for the Tuala-uta seat in the House of Representatives, Su'a Lucia Bartley, has written to President Donald Trump requesting assistance to repatriate American Samoa residents stranded in Hawaii and the US mainland.
She's asking the president to please authorize a Navy ship with medical doctors and nurses to be used as a makeshift quarantine hospital to bring the stranded people of American Samoa home.
Su'a, an employee of the Department of Health, tells the president of the United States that there have been numerous requests to Governor Lolo Moliga and the Coronavirus Task Force to bring only stranded citizens in Hawaii and the US mainland on a repatriation flight, while maintaining the border closures until there's a vaccine for COVID-19.
Unfortunately the governor and task force fear for the health of the territory's residents, and given the local hospital has only 150 beds and doesn't have enough doctors and nurses and limited medical equipment and supplies, she says.
Su'a points out that neighboring islands like Samoa, Tonga, Tuvalu and others have brought home their stranded people and "it's an embarrassment to us Americans that our leaders in American Samoa didn't do anything to help stranded citizens financially. And not even offer to have a repatriation flight."
According to Su'a "It's ridiculous for our governor to authorize workers and other people who were in Samoa which brought in citizens from New Zealand and other parts of the world that have COVID-19 to enter the territory, but not allow our own people from Hawaii and the mainland to return home."
Su'a said, "Our people went off island for medical appointments, work trainings, meetings and to visit loved ones and were unexpectedly forced"to remain off island when the border closed. She said they are in need of financial help, are feeling abandoned, are stressed out, depressed and missing their families.
ON behalf of the 500 plus residents stranded in Hawaii and the mainland, Su'a proposed that a Navy ship bring them to Pago Pago Harbor and the local DOH director and medical staff can help while the ship is here "until our people are safely quarantined and ready to be returned to their loved ones."
She also requested that stranded citizens here in the territory can sail back to Hawaii when the navy ship returns.