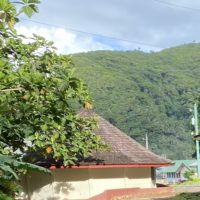 As of today students of Alataua II Elementary are attending Leone Midkiff School after heavy flooding last week inundated the Alataua II campus with water and mud making it unsafe for students and teachers.
Director of Education Dr. Ruth Matagi-Tofiga said, "Students and teachers' safety was our priority, thereby closing the school until the Department of Public Works addressed the flooding problem at the school."
A meeting was held between the DOE Director, Deputy Director Vaitautolu, Principal of Alataua II Nelda Uti and Principal of Leone Midkidff Lamapu Suani, for Alataua II students to be bussed and school at Leone Midkiff until the unsafe condition at Alataua II was resolved.
School Principal Nelda Uti called an emergency meeting of the PTA Friday to inform parents of the situation at the school, and that beginning today, Monday Oct 19, students of Alataua II will be at Leone Midkiff.
Dr Matagi-Tofiga said there's a site visit of the school campus today by herself, DPW Director Faleosina Voigt and DPW Engineer Falavai Taase and the PTA President of Alataua II.
Public works will be addressing the drainage blockage, and diversion of streams in the back of the school.
"All this work will be done in two days, and Alataua II will be re-opened on Wednesday Oct 21," said Dr. Matagi-Tofiga.
She expresses sincere gratitude to parents of Alataua II for their support, and said, "together we'll persevere through these most unusual events."