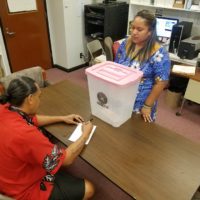 As of this morning 334 people have voted absentee for the offices of governor and lt governor, congressional delegate and American Samoa House of Representatives.
Those who have voted by outside absentee ballot totals 268. The largest group, 199, are voters who are stranded off island due to the COVID-19 pandemic, 60 are voters in the military, 5 are students and 3 are ASG employees off island.
Those who have voted by local absentee numbers 66: 12 are voters who are traveling and will not be here on or before Election Day and 54 are voters with disabilities.
Last week Governor Lolo Moliga signed into law a bill that was passed by the Fono in the fourth regular session, which adds to the category of those who can vote absentee, registered voters stranded off island due to the coronavirus pandemic.
"During this unprecedented time, measures like this are necessary to ensure that our people are not disenfranchised by circumstance," said Lolo. "I am satisfied that this legislation allows those registered voters stranded off-island the opportunity to participate in our democratic process during their unique absence."
The bill adds to the list of people granted authority to vote absentee:"Only for the elections of November 3, 2020, a qualified elector who would have otherwise been able to vote in person but by action of the government was caused to be absent from the territory and unable to cast a ballot in person."