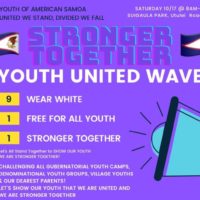 A young man has mobilized his peers to take a united stand on an issue that is currently affecting them.
Hoensels Unutoa is behind the Youth United Wave and invited young people to join him as Youth United to wave down suicide.
He said this is a positive way to deal with what's happening and a positive way for young people to respond to an issue affecting them.
The color for tomorrow's wave is white and Hoensels extends an invitation to parents, youth groups and the community to attend. It starts at 8 am tomorrow in front of the Samoanas Gymnasium.