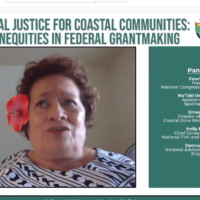 Congresswoman Aumua Amata took part in a remote oversight hearing of the Natural Resources Committee's Subcommittee on Water, Oceans, and Wildlife (WOW), entitled, Environmental Justice for Coastal Communities: Examining Inequities in Federal Grantmaking.
"Grant programs can be difficult to implement in the territories due to lack of resources," said Aumua Amata.
"In my experience, Congress can make every effort to make sure initiatives are fully funded, and yet it can feel like the territories still can't always take full advantage of certain programs.
"Even in situations where matching funds have been waived, we have sometimes found that the local government can't use everything that is made available. As it stands, we've learned that providing funds for a problem is only step one."
In the hearing, Congresswoman Amata highlighted this issue with her question about the organizational and infrastructure obstacles to obtaining and utilizing grants in the territories.
Video footage of Congresswoman Amata's question to an expert witness is available here.
The witness, who works with the grant process in Puerto Rico, confirmed the difficulties territories can experience in having the resources and personnel hours available to fully access all the grant applications and requirements.