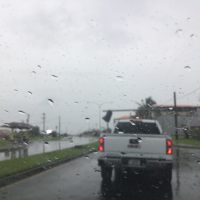 Don't expect a break in the weather until tomorrow morning.
The National Weather Service says there's a convergence zone over the Samoa islands bringing rain and thunderstorms and it's connected to a low pressure are near Fiji.
A flash flood watch has remained for most of the day amd is extended to tomorrow morning. There's also a high surf advisory in effect.
Meteorologist Dora Meredith says the eastern side of the island reported widespread flooding in the morning.
The rain should dissipate by Saturday morning as the convergence zone moves southeast.