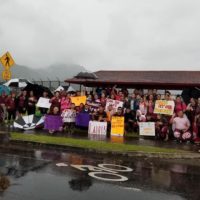 Despite pouring rain this morning, students, teachers, parents, and alumni of Tafuna High School and their friends and supporters lined both sides of the road in front of TBAS in Tafuna waving posters and banners and calling out, "Help save our lower campus," to passing motorists.
PTA President William Spitzenberg, Rep Larry Sanitoa and candidate for Lt Governor Tapumanaia Galu Satele were among the crowd who attended the peaceful protest to restore THS's lower campus.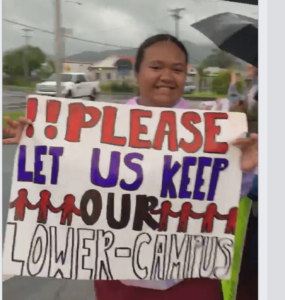 The protestors seemed oblivious to the rain and wind, buoyed on by honks and waves form the morning traffic.
The signs read, "Warriors Property Give it back," "Save our campus, save our future," "Stand for our land," and "Students lives Matter. "
Tafuna High School is hoping that their protest will prompt a reconsideration of plans to construct a new building for the Department of Education at their lower campus.
A few weeks ago, the school was forced to relocate their JROTC Program, Art and Applied Tech classes from the lower campus, to make way for the construction plans. A building for the e-RATE office has already been completed at the site.
The Tafuna PTA yesterday submitted a petition to restore the lower campus, which was signed by 3,000 people to the governor.
The petition notes that the THS student body is well over 1,100 and with the limited classrooms in the upper campus, the lower campus is very much needed by the school. Its wide open field also serves as a place for many school activities including Samoan Day festivities, JROTC drills, practice field and many other important uses.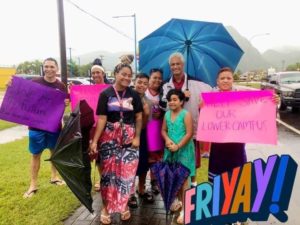 The PTA suggested that the DOE main office to be built at their lower campus can fit in the DOE property right next door. And there are also vacant lots at Lions Park, but to leave the lower campus for expansion of the school to accommodate the growing student population.