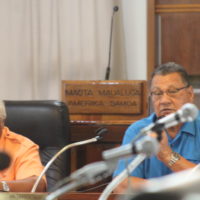 Lawmakers are being called back to session next Monday to review the Fiscal Year 2021 budget.
This follows a meeting yesterday between Governor Lolo Moliga, Senate President Gaoteote Palaie Tofau and House Speaker Savali Talavou Ale yesterday.
While no information could be obtained about the outcome of the meeting, Senate Secretary Leo'o Vaa Ma'o issued an announcement yesterday requesting Senators to reconvene at 9am Monday .
House members are being notified today though it's not clear if the two chambers will meet separately or hold a joint session like they did for their one day special session last week.
Before yesterday's meeting the Fono leaders wrote the governor stating that they remained firm on the budget they've already passed and sent him and that their recent special session has concluded.
They also reminded the governor that if a bill is not acted on by the governor within 30 days, it's disapproved if the governor is unable to return the bill due to adjournment of a legislative session.
Governor Lolo has extended by another 15 days the special session which has as the only topic on the agenda the FY2021 budget.