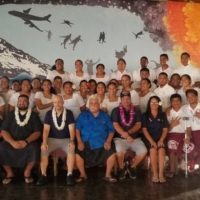 Last week close to 40 students at Tafuna High School were inducted to the Interact Club. Interact is a worldwide organization that falls under Rotary that teaches youth the concept of Rotary's Motto, Service Above Self.
The ceremony was attended by parents, students and Rotarians.
Play Audio
Frank Barron, President Of The Rotary Club of Pago Pago.
The Interact Club is headed by Alice Raynar, an English teacher at Tafuna High School, while the Interact President is Pauline Leapai.
Play Audio