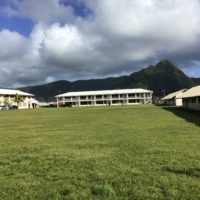 Tafuna High School students and faculty, Parent Teacher Association and alumni are staging a peaceful protest this Friday morning to restore its lower campus which is being taken over by the Department of Education.
The lower campus of the home of the Warriors was occupied by the JROTC Program, the Arts Program and Applied Tech classes.
However they are being relocated to the upper campus to make way for a new DOE building and the ERATE Office which is being moved from Utulei to allow for the container yard expansion for the main dock.
Fetaomi Mailo an alum of Tafuna High School explains.
Play Audio
The Tafuna High protest will be held in front of the TBAS Tafuna Branch from 6 am to 8am, and everyone is to assemble at 5:30 pm.

Tags: