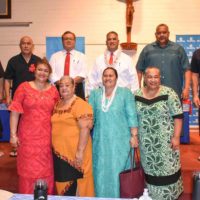 How would you feel about the Attorney General position being elected and the AG's Office being an independent agency?
The was a question from the Office of Catholic Social Services Forum with gubernatorial teams.
Talauega Eleasalo Ale, responding for the Lemanu/Talauega team, said that he was asked this question several times while he was AG and his answer every time was no.
Play Audio AG-Talauega
Candidate for Lt Governor in the Iaulualo/Tapaau team Tapaau Dan Mageo Aga said this question comes up in every election and he feels the selection process for the AG position needs to be looked at.
Play Audio AG-tapaau
Candidate for Governor, Nuanuaolefeagaiga Saoluaga Nua, said in 1988 he and colleague Milovale Solaita introduced a bill in the House of Representatives to elect the AG. And the same bill was reintroduced in 1992. However it was never passed.
He said lawmakers at the time argued that this would create a division between the governor and the AG when the two should work together for the good of the territory.
Nua said the AG should serve as a member of the governor's cabinet and he and Satele do not support electing the AG.