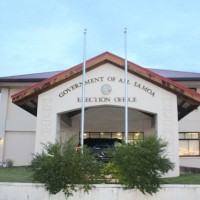 The number of those who have already cast absentee ballots for the November 3rd general elections as of October 12, is 165.
The breakdown is 147 outside or off island absentee votes and 18 local absent votes.
For the outside ABs, 113 are from registered voters who are stranded off island due to the COVID 19 pandemic, 30 are in the military, 2 students and 2 ASG employees.
Those who have voted local absentee include 11 voters who won't be here on Election Day due to travel. The Election Office explains that these are medical referrals and those working on fishing boats.
Seven are voters with disabilities.
Local absentee voting for voters with disabilities opened last Friday and will continue through to November 2.
The last day to request outside or off island absentee ballots is October 19.