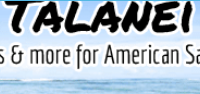 The results of an online poll by Southseasbroadcasting Inc. on our news website talanei.com are in. 
The only question asked was "Who do you support in the American Samoa gubernatorial election?"
The poll was posted on talanei from October 6-12.
Two teams are running neck and neck: Iaulualo/Tapaau and Lemanu/Talauega.
Out of 1,703 people who answered the poll, the team of I'aulualo Faafetai and Tapaau Dan Mageo Aga received 44.39% and Lemanu Peleti Sialega Palepoi Mauga and Talauega Eleasalo Ale was just a fraction behind with 44.38 %.
The team of Gaoteote Palaie Tofau and Faiivae Alex Iuli received 6.81% and Nuanuaolefeagaiga Saoluaga Nua and Tapumanaia Galu Satele Jr. garnered 4.64%.