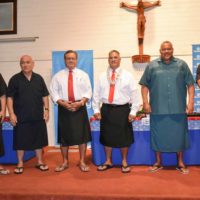 What to do about matai or property owners who do not allow access for utilities for some families, was one of the topics that was raised in the Office of Catholic Social Services' Question and Answer Session with the gubernatorial teams.
The question was: "How can you improve the poverty level and unsafe conditions on property with landowners who will not allow for utility access or building repairs?"
Responding for the Lemanu and Talauega ticket, Lt Governor Candidate Talauega Eleasalo Ale answered in Samoan that they have seen such conditions during their walks in the villages.
He said it was sad to see the living conditions of some families but what was gratifying is that despite their struggles, they still show good spirits and are not discouraged.
He said some families who live in elevated areas need road access to their homes. Talauega said some have expressed their appreciation and said that it's only been during the current administration that they have been able to get a road to their homes.
He added that there are laws to deal with utility and road access and if elected he and Lemanu would review them and determine whether any changes should be made.
Candidate for Governor I'aulualo Faafetai Talia, also answering in Samoan, said the question speaks directly to the effects of family matai and property owners refusing to grant access to all homes and property.
He said there needs to be a review and discussion of the impacts of such refusal on the standard of living for families who are affected, who are also taxpayers.
I'aulualo said he and Tapaau will also review applicable laws and regulations so that families are not disadvantaged.
For the Nua and Satele team, Lt Governor Candidate Tapumanaia Galu Satele Jr said they have seen first hand during their village walks, how the authority of the matai over communal land is limiting access to essential utilities for some families.
Play Audio