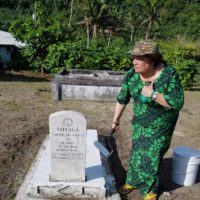 Congresswoman Aumua Amata highlighted the birthday of the United States Navy, established on October 13, 1775, and congratulated all those serving in the Navy and Navy Veterans.
This year, on January 1, 2020, the Blue Water Navy Vietnam Veterans Act of 2019, which Amata cosponsored, went into effect as Public Law 116-23 after it was signed by the President during this Congress on June 25, 2019. These Veterans are now entitled to a presumption of service connection for illnesses related to Agent Orange exposure.
"We have a lasting commitment to our Veterans, and by taking action on any one specific need such as the Blue Water Vietnam Veterans, we show honor to them all," said Aumua Amata.
"This important bill is an example of one that we worked on in the 115th Congress then brought it forward and completed it in the 116th Congress."
"Happy birthday to the U.S. Navy, and congratulations to all our Sailors and Navy Veterans," she continued. "In American Samoa, we have a long history with the Navy, including our earliest known U.S. serviceman in the late 1800's, Seaman Navy Seaman Tafaega of Olosega Island, Manu'a, who fought in both the Spanish-American War and World War 1.
"The Navy has a place in American Samoa's history, and just over 100 years ago, it was part of our story as one of the few places on earth to save lives and be successful against the Spanish Flu pandemic," she concluded. "Today, the Navy includes a number of our own from American Samoa as it preserves freedom, peace, human rights and dependable trade all over the Pacific and the world."