At a cabinet meeting today Secretary of Samoan Affairs suggested that the cabinet collect donations for local residents who are stranded off island.
And he pledged a donation of $5,000 towards the collection provided the idea has the blessings of the Governor and Lt. Governor.
Mauga said this donation would show the public that the leaders and cabinet are mindful of their plight and are not resting.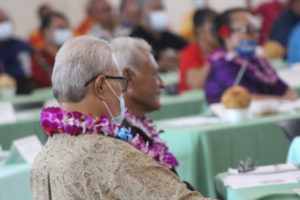 He said no one knows when a repatriation flight is possible but he feels a donation from the cabinet, with 40 directors included, will be a good start to assist mothers, fathers and children who are currently stranded off island.
"It'll show that we walk the talk," Mauga told the cabinet.
He acknowledged the good work and efforts by the Governor, Lt Governor and the Coronavirus Task Force in protecting the territory from COVID-19.
He also called for prayers for President Trump and the First Lady who have been infected with the virus.