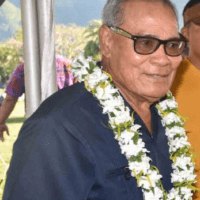 The 9th Amended Declaration for COVID-19 issued last night continues for the 7th consecutive month CODE Blue restrictions for American Samoa to prevent the spread of the deadly coronavirus to the territory.
There are no changes from the previous declaration.
Hawaiian Airlines flights remain suspended for another 30 days with reconsideration slated for November 1. KHJ News points out that Hawaiian Airlines has a notice on its website saying that flights to Pago Pago are suspended up to November 30.
When asked yesterday if the governor has requested a further suspension of flights, the Chairman of the Coronavirus Task Force Iulogologo Joseph Pereira said no he has not.
Hawaiian Airlines has not responded to our inquiry about their notice of flight suspension up to November 30.
Under the latest emergency declaration, businesses will continue to close at 9pm. The business hours are 5am to 9pm. The same hours apply to buses and taxis. And they can only carry half their seating capacity. The exception to the limited business hours is StarKist Samoa and businesses that supply it, including buses.
Public gatherings including church services are open from 5am to 9pm. Bingo games for fundraising purposes remain suspended.
Samoa Airways and Talofa Airways flights are suspended but the need for flights is continually reviewed depending on the COVID -19 status of both countries. The governor and lt governor will review if emergencies require special flights.
The travel requirements for anyone arriving from off island, such as negative COVID-19 test results, 14 days quarantine upon arrival and so forth remain unchanged.
Violation of emergency declaration rules will be prosecuted as a Class A misdemeanor and the rules will be enforced by the Department of Public Safety.
New language that appears in the Whereas section providing the reasons for the restrictions of the states that sufficient data is now available which validates the fact that Pacific Islanders face greater susceptibility and vulnerability to being infected by the coronavirus and high rate and incidence of death.
Also added is this wording: "The leadership of the Territory of American Samoa are keenly sensitive, sympathetic and grateful for the sacrifices being made by all of American Samoa's residents stranded in the United States and elsewhere in the world attributed to local efforts to stop the coronavirus from entering our shores causing a human catastrophe.
The 9th emergency declaration is in effect for 30 days beginning today.
Click here for the full declaration 9th-COVID-EMERGENCY-DECLARATION-dtd-Oct-1-2020