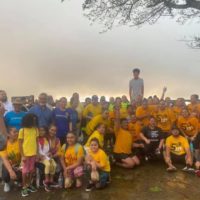 Heavy rain early Saturday morning did not stop supporters of Miss American Samoa's "Hike for Life" from turning up for the strenuous climb up picturesque Aoloau.
Miss American Samoa Epifania Petelo planned the event to mark Suicide Awareness and Prevention Month, September, and she was overwhelmed with the turnout.
"We chose to hike Aoloau because it represented life. We struggled hiking up just like how we are in a point in our lives. But at the end you'll see the sunrise. At the end you'll have brighter moments and brighter days," she said.
Epifania said this was also a message to our community that "Your life is so precious. You are loved. You are worthy of life and you are not alone."
She urged "reach out for help."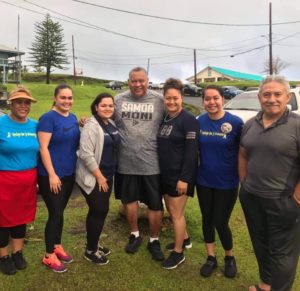 Hikers who made the trek up Aoloau included Lt Governor Lemanu Peleti Mauga, the mayor of Aasu and Aoloau, former Miss American Samoa Cindy Silao, Antonina Lilomaiava and Magalita Johnson, families who lost loved ones to suicide, exercise and nutrition groups such as Stronger Slimmer You, The Bulldogs from Army Reserve 100th Battalion, All About You Spa and many individuals.
Epifania thanked all who participated in or supported her "Hike for Life."