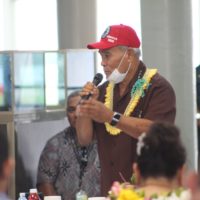 Governor Lolo Moliga has expressed his "profound gratitude" to the leaders of last Thursday's full blown repatriation flight exercise.
He said in a letter to Commissioner of Public Safety , Director of Port Administration Taimalelagi Dr. Claire Tuia Poumele and Director of Health Motusa Tuileama Nua that the success of the exercise reflected their effective leadership.
Lolo said what was striking to he and the lt governor was the "obvious transcendence of agency boundaries which fostered the observed unity and fluidity in the performance of assigned duties and responsibilities.
"It has always been our primary mantra to focus on protecting lives of all our residents whether stranded in the States or here at home," wrote the governor.
"It will also be our main objective to ensure that we will leave no stone unturned to eliminate the risk of any accidental importing of the Coronavirus onto our shores."
The governor went on to say that "…it is our collective pledge that no action will be taken until we are absolutely sure that the actions we're taking will prevent the entry of the virus into our home. "
The governor was also thankful for the support from the community who participated in the exercise as passengers. "Lt Governor Lemanu and I were touched by the participation of young children and older folks in the exercise," he conveyed.
Lolo asked that the directors extend their appreciation to members of the public who took part in the drill and also all employees of their departments and the Coronavirus Task force for a job well done.