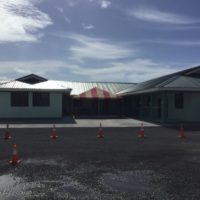 The Emergency Operations Center has raised concerns regarding the COVID-19 protocols used with two travelers that arrived on the Samoa Airways flight from Samoa last Friday.
And KHJ News understands that FEMA is also interested in the procedures used.
As we reported earlier the Samoa Airways plane that's used for Manu'a flights went for maintenance in Apia last Thursday and returned the next day with an ill military veteran and his wife.
Information from the Department of Health said the travelers were COVID-19 tested and both were negative. They were taken to the DOH quarantine center.
After a review of the vet's patient records from Apia LBJ, DOH and VA doctors as well as a senior nurse specialized in infection control made the decision to transfer the veteran to LBJ Hospital.
What the EOC is trying to find out is why the vet's spouse was not subject to quarantine but allowed to come and go at the hospital.
FEMA has also inquired about the disposition of the two travelers but during a briefing with EOC partners the DOH and LBJ liaisons didn't seem to know, except that the two were transported to the hospital.
The current emergency declaration for COVID-19 states that all travelers are subject to full quarantine for 14 days with medical referral patients subject to screening and quarantine at the discretion of the DOH physicians but guided by clearly established criteria to determine who is fully quarantined and when a person is to be released from quarantine.
The EOC has communicated with DOH and LBJ that it accepts the veteran needed to be hospitalized however it's a different case with the spouse.
The spouse appears to have bypassed regular quarantine protocols per the medical decision of DOH. The EOC is asking whether other incoming passengers from Samoa will get the same reprieve from quarantine.
It has asked DOH to provide a written copy of the established criteria to determine who is fully quarantined and when a person is to be released from quaratione to help them better understand and provide answers to federal partners on the COVID-19 protocols.