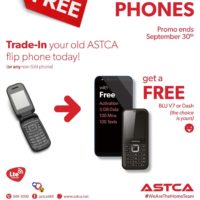 ‪Next Wednesday is when the American Samoa Telecommunications Authority is decommissioning its CDMA or Code Division Multiple Access network and going fully LTE (Long Term Evolution).‬
‪The switch to LTE means ASTCA flip phones will no longer work.
‪If you have an old ASTCA mobile device such as a flip phone, Moto G or if your phone is not activated with an ASTCA LTE Sim card, you are currently on the CDMA network.‬
‪ASTCA has been running a campaign to get their customers with flip phones to turn them in for a free essential handset.‬
‪With just a few days left before the decommissioning of the CDMA, ASTCa is making a splash in the media to get customers to convert.
‪Asked about the response, Marketing Manager Marjorie Steffany said with their LTE prepaid mobile data bundles, heavy data users switched immediately.‬
‪"Those that are hesitant to convert are subscribers who prefer their flip phones and we're doing our best to accommodate and educate them on using smartphones, she explained.
Unfortunately, most vendors and carriers no longer offer devices that are supported on the CDMA network which is why the upgrade to LTE was necessary.‬
‪"As the world moves towards 5G, we have finally upgraded from our 3G network to 4G/LTE+ advanced to match the experience of those in the mainland," explained Steffany.
"ASTCA being LTE+ advanced offers SIM cards to subscribers. Today, iPhone users can use an ASTCA SIM card in their device, or get an LTE handset that comes equipped with a SIM card."