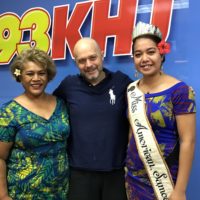 Miss American Samoa Epifania Petelo will continue her reign until next year thanks to the COVID-19 pandemic which has cancelled this year's Miss American Samoa Pageant and the regional Miss Pacific Islands contest.
Ms Petelo remains busy as an employee of the American Samoa Visitors Bureau and with community groups that she's part of.
One of her service projects is a Walk for Life this Saturday, an activity for Suicide Prevention Month.
Miss American Samoa and MASI President Mrs Meafou Imo were guests on the Morning Show Tuesday to promote the Hike for Life event.
Play Audio