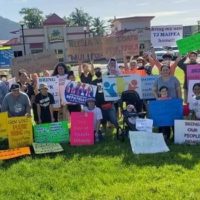 Play Audio
Papali'i Lucia Bartley with relatives of local residents stranded in Hawaii and the US mainland at a wave Saturday morning in front of Tropical Pizza in Tafuna.
Close to 50 members of the community (including infants and babies)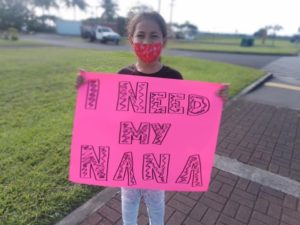 gathered infront of Tropical Pizza in Tafuna, early Saturday morning, to show their strong support of the Tagata Tutu Faatasi Alliance of Amerika Samoa
(TTFAAS).
The Alliance comprises 500+ residents of American Samoa who have been stranded off island, since border closure in March of this year.
Carrying posters which read, "Our families matter," "I need my Nana", "Bring my Mama and Papa Home," "American Samoa Repatriate your residents", "No open borders, only repatriation. " the group waved to cars and passersby while calling out to Governor Lolo M. Moliga, to please bring their parents, grandparents, brothers and sisters, home.
The movement was spearheaded by some of the stranded residents' children, Brittany Duane, KJ Ameperosa, Saualofa Ale-Failautusi, Tanya Ma'o-Aab, Amete Mulipola and Vasati Fitiausi.
Bartley who joined the group said, "We are making noises and also praying and fasting for the governor to have a change of heart and reconsider his decision to bring our loved ones home in the very near future."
Photos: TTFAAS