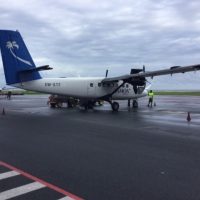 Members of the public and some government officials have complained about what they describe as selective approval for people who enter and exit the territory.
When the Samoa Airways Twin Otter aircraft flew to Apia yesterday for maintenance, three people other than the airline mechanics and pilots were on the flight to Apia.
The three were the owners of Silva Group, Sala and Jacinta Silva and a grandson of the Samoa Consul General.
The airline had earlier informed those enquiring if they could travel on the flight that there would be no passengers or cargo allowed. So it came as a surprise that travelers were allowed on the Apia bound flight yesterday.
When asked yesterday, airline staff referred us to the AG's office. We sent questions to Attorney General Mitzie Jessop Taase and the Chairman of the Coronavirus Task Force Iuloglogo Joseph Pereira but there has been no response.
Health authorities say they too were unaware that there would be travelers other than the airline staff going on the flight until a few hours before it left. DOH provides COVID-19 tests for travelers going to Samoa.
When the plane returned from Apia today, it brought two travelers, a military veteran who lives in Apia and an escort. The Department of Health and Homeland Security were only notified of the arriving passengers after the aircraft arrived.
One official complained about the lack of coordination and information sharing. He said the AG's Office is approving OK Boards and not letting those involved in medical and security checks and know that people are coming in.