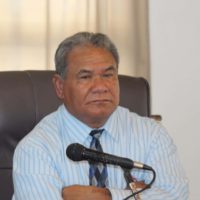 The Board of the American Samoa Government Employees Retirement Fund is seeking answers from the Chairman of the Board of the American Samoa Telecommunications Authority regarding the revenues from the sale of Hawaiki cable.
Vaanatiu Iafeta Tofala, Chairman of the Retirement Fund Board wrote to ASTCA Board Chairman Iulogologo Joseph Pereira saying that it's their understanding none of the 200 gigs capacity of the Hawaiki Cable has been sold. Further that a recent sales transaction between ASCTA, the American Samoa Hawaiki Cable and French Polynesia was through the sale of 50 gigs from Hawaki LLC Company.
"Since this sale was done outside of the original 200 gigs," said Vaanatiu, "it is now clear to the ASGERF Board that the Retirement Fund will not benefit from the sale as per the requirements of the law that granted the Retirement Fund 25% of gross sales of the Hawaiki capacity," said Vaanatiu.
He pointed out that to their understanding the reason why ASTCA did not sell the Hawaiki bandwidth directly to French Polynesia was that the contract with the American Samoa Economic Development Authority bonds prohibited sales of the 200 gig Hawaiki capacity to a foreign country or entity.
The eFund board chairman said the transaction with French Polynesia was a deviation from ASTCA's obligation to the Retirement Fund and could very well be a violation of the statute that requires a return of 25% to the Retirement Fund for its investment in the Hawaiki Cable. In addition the Retirement Fund believe ASTCA's agreement with the ASEDA Board and their bond agreement has no bearing on the Retirement Fund's entitlement to its share of benefits from the Hawaiki Cable.
Vaanatiu informed the ASTCA Board Chairman Iulogologo that ASGERF Board has not referred the matter to their legal counsel as they hope their two boards can resolve the matter amicably in a manner that is fair and equitable for everyone involved.
He said ASGERF Board looks forward to a chance to meet with the ASCTA Board and for a constructive and meaningful discussion to clarify the issue, perhaps thereby avoiding "commitment to any legal interpretation of the issue."