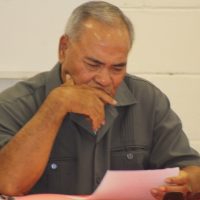 Governor Lolo Moliga told directors at a cabinet meeting yesterday that their job is to protect and provide job security for employees.
He lauded that under their administration, the salary levels of employees who were at the bottom of the pay scale have been increased as evidenced by his policy to set the starting salaries of high school graduates at $12,000 for those with AA degrees at $16,000 , $23,000 for BA graduates and $27,000 for Master degree holders.
The governor told directors he expects these salary levels to be implemented throughout the ASG workforce before they leave office.
He said if he and the lt governor find any employee that are earning below these salaries they will increase the salaries themselves.
Governor Lolo said directors should ensure that the jobs of employees are secure and protected with requisite benefits of government employment.
The governor then told the cabinet about a young male who died over the weekend. When they reviewed his employment contract he did not have any Social Security and retirement deductions which Lolo said are benefits that families depend on at times such as these.
He said he didn't blame Public Health or Human Resources but themselves for not being more aggressive in pushing the issue of employee benefits.
The reference to Public Health is in indication that he was referring to DOH employee Marquis Leauma, who was killed in a car accident in Utusi'a on Sunday morning. Leauma is a grand nephew of the governor.
Lolo instructed his Executive Assistant Iulogologo Joseph Pereira and Attorney General Mitzie Jessop Taase to draft a policy regarding benefits for all contract employees, whether on one or two year contracts, or independent contractors.
The governor said families depend on these benefits at their time of need.
"We are providing for our own people, they are Samoans, our children,not outsiders," said the governor.