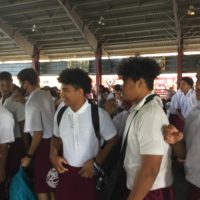 The call by some lawmakers for schools to return to five days a week is getting support from some quarters of DOE.
According to teachers who shared their views with KHJ News, virtual classes cannot work if there's no internet service in schools that have staggered school days, and students do not have iPads, laptops or internet access at home.
One teacher said this whole ordeal is frustrating because "we spent significant amounts of time preparing during the summer for virtual learning. We did these training with the expectation that students would be given laptops and Wifi access. But if the students don't have these devices, all that training was a waste of time."
The high school teacher said now teachers are doubling the workload to accommodate those students who do not have access to devices.
The teachers have been told to make packets for students who don't have iPads or laptops and internet at home.
But the teacher pointed out, there's only 1 printer per department to prepare the materials for the student packets.
A high school student said a lot of students are not learning from online classes. She said some are not focusing and some don't even do their school work online. " I suggest that we go back to five days in school," she said
Teachers also point out that they are having to supply their own hand sanitizers, Clorox wipes and other cleaning materials to make sure their classrooms are clean. "Where did the COVID funding for cleaning supplies for the schools go to?" asked one educator.
Three weeks since the start of school the teacher aides which were to help set up classrooms for social distancing and make sure they are sanitized , have not been seen in the schools.
DOE Director Dr Ruth Matagi-Tofiga told KHJ News that the 100 cleaners and teacher aides have to go through the ASG hiring process.