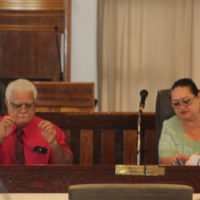 Tuala-uta Representative Larry Santitoa is insisting that COVID-19 grants for ASG should be included in the proposed Fiscal Year 2021 budget that's now being reviewed by the Fono.
At yesterday's hearings Sanitoa pointed out that the coronavirus grants do not expire until September 2021 and they should be included in the FY2021 budget.
He asked Budget Director Catherine Saelua to explain for the Fono's understanding whether the estimated $170 million in COVID-19 funding for the territory is included in the proposed budget
Mrs Saelua said "in all honesty" none of this funding is in the proposed FY2021 budget.
Sanitoa said that all new funding should be part of the budget and be subject to Fono review. He pointed out that there's no difference between the COVID money and federal grants for departments which are included in their budgets.
"The COVID-19 funding under the CARES Act all have specific guidelines and requirements. It behooves the Fono members to understand these guidelines and requirements and how these funds are supposed to be spent," the Tuala-uta faipule told KHJ News..
He reflected that in 2009, American Samoa received over $200 million in ARRA (American Recovery and Reinvestment Act) funding , and all of that money which was good for 2-3 years was included in the budget process.
Sanitoa said, "The new administration will have to deal with the audits of the COVID_19 funding next year and its therefore critical for Fono members to get the latest information on how these funds are being used now and in FY 2021.